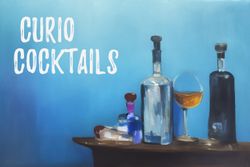 Welcome to Curio Cocktails, a blog dedicated to exploring the world of mixology, cocktails, and food pairings. We are cocktail enthusiasts who are passionate about the art of mixology and the joy of sharing cocktails with family and friends.
At Curio Cocktails, we are committed to bringing you the best cocktail recipes, mixing techniques, and food pairings. Whether you're a beginner or a cocktail enthusiast looking to expand your knowledge, we have something for everyone.
Our blog features cocktail recipes, from classic drinks like the Old Fashioned and the Manhattan to more innovative and experimental cocktails that push the boundaries. We also provide tips and tricks on how to make the perfect cocktail, including how to choose the right ingredients, how to mix and shake, and how to present your drinks in a way that's both beautiful and delicious.
In addition to cocktails, we are also passionate about food pairings. We believe that the right food can elevate a cocktail to a whole new level, and we are always experimenting with new and exciting ways to pair drinks with dishes. From small bites and appetizers to full meals, we have plenty of ideas to inspire your next food and cocktail pairing.
So grab your shaker and your favorite glass, and let's explore the world of cocktails together! And don't worry, we won't judge if you accidentally spill your drink (we've all been there). Cheers!